Emma-Louise Hewitt, Sydney Mitchell
Sydney Mitchell
Solicitor - Employment Law
Business Description
About Emma-Louise Hewitt
Emma specialises in all areas of Employment Law acting for both employees and employers in a range of areas including but not limited to:
Drafting contracts, handbooks, policies and procedures

Negotiating exit packages and Settlement Agreements

Advising on potential Employment Tribunal claims such as unfair dismissal and wrongful dismissal

Guidance on re-structuring and redundancy

Assistance with disciplinary and grievance procedures and processes

Negotiation during ACAS early conciliation

Advising on all aspects of workplace discrimination and bullying

Workplace training on best practice and staff management for supervisors and managers

Providing general day to day employment law advice and support to business owners, managers and HR advisors
Client Sectors: Automotive, Professional Services, Hospitality, Recruitment, Engineering, Manufacturing, Care Homes, Retail, Fashion, Casinos and Logistics.
Emma Studied Law at Derby University from 2003 – 2006, undertook her LPC at The College of Law Birmingham (now University of Law) in 2006 - 2007. She worked as a paralegal at Davies and Partners Solicitors before completing her training contract with them in February 2010. She then joined Standley & Co Solicitors in March 2010 as an Assistant Solicitor, becoming Head of the Employment Department in 2011 and then Equity Partner from April 2015 until 31 July 2018.
What our clients say
Legal 500 testimonials from clients:
'Emma-Louise Hewitt was very quick at putting my mind at ease on a very complex case'
'Emma-Louise Hewitt is an outstanding employment lawyer. Emma is not only a great technical lawyer but one who has great empathy and compassion for her clients and I feel that she always go the 'extra mile' for them'
'Emma-Louise Hewitt is conscientious, diligent and always keen to get the best result for her clients'
'Emma-Louise Hewitt gives me practical advice that I can understand'
'Emma-Louise Hewitt was brilliant in helping me achieve what I wanted out of my case'
"Years ago Sydney Mitchell represented me in my divorce case and when I needed their expertise again with an employment dispute they acted again professionally, sensitively and with a smile"
"Professional, practical advice from Emma. She is always there when I need her."
"Emma is such a great asset to your company, I will pass on any future clients that I can."
Mr Toulouse, Sapphire Windscreens
"Emma Hewitt was very knowledgeable through the whole process. Would recommend her."
Ms Rehana Begum
Types of Law used
Employment Law
What the Directories say
2019-2020 - Legal 500 - Employment
Senior Associate Emma-Louise Hewitt joined Sydney Mitchell LLP in September 2018 from Standley & Co Solicitors to become the new department head.
Hewitt's team handles a mix of claimant and respondent matters, with recent work including whistleblowing cases, unfair dismissal claims, and matters involving disability discrimination and sexual harassment.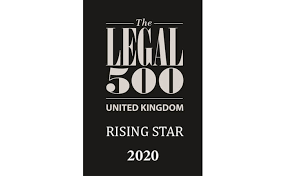 Interests and Hobbies
Running, going to the gym, practising my golf, cooking and spending quality time with family and friends.
Accreditations & Qualifications
Awards and Recognition
2020 - Rising Star - Legal 500

2017 – Emma was a finalist in the category of Future Face of Legal at the Greater Birmingham Chamber of Commerce Future Faces Awards

May 2017 – Received a Commendation for the Woman Who Achieves in Business

February 2017 – Emma was nominated for an award in the Networking Mummies national Recognition Business Awards
Career History
September 2018 – Head of Employment Law, Associate, Sydney Mitchell
April 2015 – July 2018 – Partner, Standley & Co
March 2010 – April 2015 – Solicitor, Standley & Co
2008 – 2010 – Trainee Solicitor, Davies and Partners
2007-2008 - Paralegal, Davies and Partners
Education
2003 – 2006 Derby University
2006 – 2007 College of Law Birmingham (now University of Law)